A couple of days ago I was kind of wondering whether did Apple actually remove the battery percentage indicator option which you would normally have on the earlier iPhone models. But there is a real truth — the battery percentage indicator is missing on iPhone 11, 11 Pro and 11 Pro Max. This is absolutely normal and there is nothing wrong with your iPhone. Truth is, the battery indicator disappeared way far back since it's not just the iPhone 11 we're talking about here — this includes every iPhone with a notch.
Apple
decided to remove the battery indicator from the status bar because the notch, the camera cutout at the top of your iPhone's display that looks like a deformed black hole, cannot allow room for any extras there. This is the case if you're not just on an iPhone 11, but also iPhone X, iPhone XS, iPhone XS Max, iPhone XR. Hence, if you're on an iPhone 11, iPhone 11 Pro or iPhone 11 Pro Max, then in this guide we will explain EVERY single way you can view your battery percentage indicator.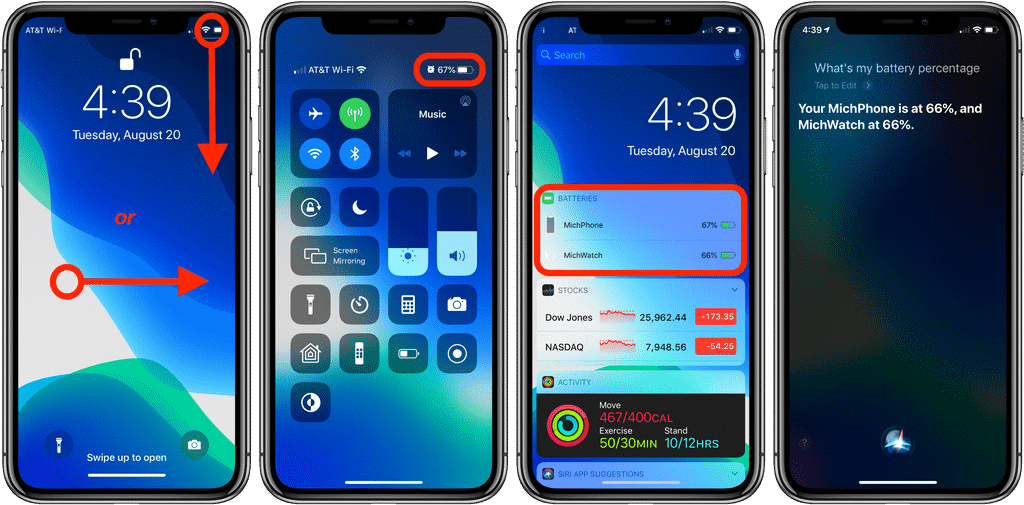 Nothing spoils an afternoon of selfie snapping and Instagram browsing like a dead battery on your iPhone. Shouldn't it be easy to see the battery Level on your iPhone? Thankfully, it is! In this article, I'll guide you step-by-step on how to show battery percentage on iPhone 11, iPhone 11 Pro, iPhone 11 Pro Max and iPhone X models. Without further ado, Let's dive into it!
How Do I view Battery Percentage On My iPhone 11, 11 Pro or 11 Pro Max?
Here are step by step instructions for how to show Battery Percentage indicator on
iPhone 11, 11 Pro, or 11 Pro Max
1. Using your Control Center.
Without a doubt, the easiest and quickest way to view the battery percentage indicator on your iPhone 11, 11 Pro, 11 Pro Max or iPhone X is by Launching the Control Center. Quick and easy! right? To launch the Control Center: just swipe down from the top-right hand corner of the display . A good tip is to always remind yourself if you ever want to check your battery percentage is to swipe down from where the battery icon is usually located on your iPhone.
Try it now!
2. View From Batteries Widgets
Another way to check your battery percentage on iPhone 11 is by navigating to the Widgets section. The Batteries widget section will also show you the battery percentage of other devices like Apple Watch, AirPods and AirPods Pro.
In case you can't see the Batteries widget in your Widgets section, simply do the following:
Launch the Today View by swiping right on the lock screen or the first page
of the home screen.
Scroll down to the bottom of the Widgets section and tap Edit.
Now, from the Add Widgets screen, under More Widgets just tap the button next to batteries to add the Batteries widget into your list.
Once the Batteries widget has been successfully added, you'll be able to view your iPhone's battery percentage straightaway. In addition, you'll see the battery percentage of other connected
devices, like your
AirPods
or
Apple Watch.
3. Asking Siri.
Another way to view battery percentage indicator on an iPhone 11 is by asking Siri. To get Siri to tell you the battery percentage, simply ask it "What's my iPhone's battery percentage?"
Siri will happily respond to your command and let you know how much battery is left on youriPhone.
4. View The Battery Percentage Indicator on your iPhone 11 While it's Charging.
Another way to view the battery percentage on your iPhone 11 is to connect it to a power source. When your iPhone starts to charge, it will display the battery percentage on your iPhone's screen.
You will be able to view how much battery has been charged whenever you wake you'reiPhone.
Bonus: Get A Detailed Battery Consumption Analysis in Your Settings App.
If you want to get detailed information such as your battery health alongside apps that are consuming most of your iPhone's battery, simply head over to Settings >Battery to get full breakdown on your battery's health (whether it requires replacement), apps that are draining most of
your iPhone's battery life, your screen time, setting time limits for productivity and more.
You can tweak a few settings within the Battery section to
improve the battery life of your iPhone.
We trust this guide has provided you with a range of options to show battery percentage on iPhone 11, 11 Pro or 11 Pro Max. Now that you know how to view the battery percentage on your iPhone, guesstimating how much battery percentage is left is now a thing of the past! So go ahead:
Capture a few more pictures of your family or your dog, or re-post your favorite recipe on instagram. If you have any other questions about how to use battery
percentage on your iPhone, let us know in the comments section below. We also have plenty of other articles that I suggest you check right now.