The Apple iPhone 15 lineup comes with exciting features such as USB-C port, Dynamic Island, Action Button and more. The iPhone 15 starts at $799 and only goes up in price from there depending on the desired specs. Because of how costly it is to stay current with Apple tech, those looking to buy in want to make sure that the iPhone 15 is able to withstand at least some degree of wear and tear — including potential waterproofing. Here's what you need to know about whether the iPhone 15 is waterproof and if you should be bringing it poolside.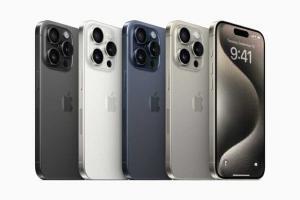 KEY TAKEAWAYS
The iPhone 15 has a water resistance rating but is not waterproof.
The iPhone 15's water resistance is limited to fresh water and will not protect against damage in salt water or chemically treated pools.
Water damage is not covered under warranty, so if you damage your iPhone 15 by submerging it without a case, you will have to pay for repairs.
How Waterproof Is the iPhone 15?
The iPhone 15 isn't completely waterproof. However, all iPhone 15 models, including the iPhone 15, iPhone 15 Plus, iPhone 15 Pro, and iPhone 15 Pro Max, are water resistant with an IP68 rating.
IP, or ingress protection, ratings fall under the International Electrotechnical Commission(IEC) 60529 standard, which rates how well devices hold up to dust and moisture. IP grades are the industry standard for electronics. You'll find IP ratings on headphones, smartwatches, and various other personal gadgets.
IP numbers come in two parts:
Dust protection: The first number measures dust protection on a scale from no protection (zero) to wholly sealed off (six).
Moisture resistance: The second number goes from no seal (zero) to complete protection against water pressure from multiple angles–and hot water too (nine).
The IP68 rating on iPhone 15 indicates these phones are well protected against dust and are also water-resistant but not fully waterproof.
What does that mean in real life? Whether you accidentally drop your phone in a pool or intentionally take your phone with you in water, your iPhone 15 should be okay.
Apple states all four iPhone 15 models can be submerged and protected in water up to 6 meters deep for up to 30 minutes.
Is the iPhone 15 resistant to salt water?
While the IP68 rating for the iPhone 15 family says that they're all good for exposure to fresh water, it's a little ambiguous about other kinds of liquids. Questions regarding how well devices hold up in salt water are frequently asked as a result. Fresh water is harmless to the iPhone 15 in the ways specified above, but salt water can have devastating effects on it. It's a good idea, then, to pay special attention to keeping your phone dry when swimming in a salt water pool or when heading to the ocean.
Is There Any iPhone That Is Waterproof?
No iPhone is entirely waterproof, but many models after iPhone 7 come with water resistance. Several of the newer iPhone generations share or come close to iPhone 15's water protection.
Models with the same IP68 resistance to splashing, dust, and immersion in up to 6 meters of water for a maximum of 30 minutes include:
iPhone 14
iPhone 14 Plus
iPhone 14 Pro
iPhone 14 Pro Max
iPhone 13
iPhone 13 mini
iPhone 13 Pro
iPhone 13 Pro Max
iPhone 12
iPhone 12 mini
iPhone 12 Pro
iPhone 12 Pro Max
If your iPhone is exposed to or dunked in water, Apple recommends drying the device by gently tapping it against your hand with the lightning connector facing downward. You'll also want to avoid charging or using the Lightning port on your iPhone until it's dry.
Some iPhones also hold the IP68 rating but can't be immersed as deeply in water. These models come with IP68 protection in up to 4-meter depths for 30 minutes:
iPhone 11 Pro
iPhone 11 Pro Max
Other iPhones can withstand only 2-meter depths for 30 minutes maximum. This list includes:
iPhone 11
iPhone XS
iPhone XS Max
Several older iPhones cut back the water resistance further with an IP67 rating. This rating offers dust protection and tolerance to submersion in 1-meter depths for 30 minutes.
iPhone SE (2nd generation)
iPhone XR
iPhone X
iPhone 8
iPhone 8 Plus
iPhone 7
iPhone 7 Plus
The above iPhones can also withstand everyday spills from beverages such as coffee, tea, and juice. If you need to clean your phone, Apple recommends avoiding soaps or detergents.