The best MacBooks for high school student attending school in person or remotely
The best MacBooks for high school students are powerful enough to let you tackle all your school projects, with enough portability and power capacity to get you through a full day of classes. Whether you're going back to school in person or attending classes remotely, having the right laptop is key.
Our best high school MacBook picks all share a few common traits. They have excellent battery life, which is crucial when running between classes on school all day. These MacBooks are also affordable, with many models under $1000 — though we've also listed some higher-priced MacBooks that are great investments.
If you're worried about spending over $1,000, know that our picks are made with your future in mind. The MacBook Pro isn't cheap, for example, but mine has lasted for 8 years, which is enough time for high school and college (or for applying to your first jobs out of college). Read on for our picks of the best high school MacBooks you can buy right now.
To choose among the best MacBooks for high school students, we started with extensive personal experience: All the MacBooks here have been road-tested and reviewed in some way. Then, we added in-depth research by cross-referencing third-party reviews with specs sheets, first-party benchmarks and user experiences. Rest assured, we know the ins and outs of all these machines, so you can choose the perfect one for you.
1. Apple MacBook Air M2 (2022)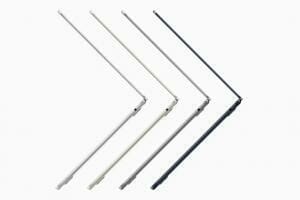 Specifications:
Display: 13.6 inches; 2560×1664 CPU: Apple M2 GPU: 8-core or 10-core GPU RAM: 8GB-24GB Storage: 256GB-2TB SSD Weight: 2.7 pounds
Why It's The Best MacBook For High School Students
The new MacBook Air M2 is so good it has taken the No. 1 spot on our best MacBooks for high school students. And that's because it delivers everything you could want in a notebook: great performance, an awesome display, long battery life and plenty of comfort in a very sleek design.
This new Air lives up to its name by shrinking down the design 20% by volume and measuring just 0.44 inches thick. And it's quite light at 2.7 pounds. And yet the M2 chip inside this machine delivers power that outperforms most Windows laptops. It's a multitasking champ, and if you want more graphics might you can upgrade to a 10-core GPU.
We also really like the bright display on the new MacBook Air M2, which rivals the MacBook Pro M2, and it's now bigger at 13.6 inches with slimmer bezels. Other highlights include a sharp 1080p webcam, MagSafe charging and four color options.
With over 16 hours battery life, the MacBook Air M2 should last you most of the day on a charge.
Pros:
Sleek, thin new design
M2 is powerful and efficient
Long-lasting battery
1080p webcam
Bright display
MagSafe returns to MacBook Air
Cons:
Starts pricier than previous generation
Supports only one external display
Display notch will bother some people
2. Apple MacBook Air M1 (late 2020)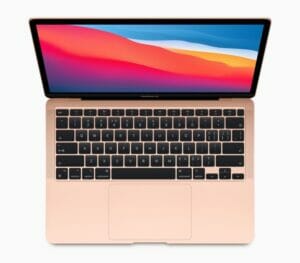 Specifications
Display: 13.3 inches; 2,560 x 1,600CPU: Apple M1 GPU: Integrated 8-core GPU RAM: 8GB-16GB Storage: 256GB-2TB SSD Weight: 2.8 pounds
Why It's The Best MacBook For High School Students
The 2020 MacBook Air will keep its charge through multiple classes, breaks and all-nighters. We mean that, as it has over 14 hours battery life. Its performance is also seriously faster: the M1 chip makes the MacBook Air a shockingly decent system in multiple ways. Not only did it run Rise of the Tomb Raider smoothly, but that was a Rosetta 2 conversion of that Intel app.
Plus, you can run iOS and iPadOS apps on the MacBook Air, as its M1 processor is similar to the A-series iPhone and iPad processors. Living the remote learning life? You'll look clearer and more accurate than ever, as signal processing in the M1 makes the MacBook Air webcam better than ever. Also, its Magic Keyboard is really great for typing comfortably for hours on end.
Pros:
Remarkably fast performance
Strong legacy app support
Amazingly long battery life
Cons:
Still has thick bezels
Light on ports
3. MacBook Pro 13-inch (M1, late 2020)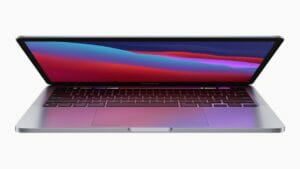 Specifications:
Display: 13 inches; 2560×1600 CPU: Apple M1 (8-core) GPU: 8-core integrated RAM: 8GB to 16GB Storage: 256GB to 2TB SSD Weight: 3 pounds
Why It's the Best MacBook For High School Students
As a high school student, you'll often learn about visual media. In that regard, you'll want to turn to the M1-powered MacBook Pro. Its display is better than the Air's and its battery lasts longer as well — it has over 16 hours of battery life, which is absolutely epic. And once your favorite applications update to support Apple silicon, you'll wonder what took Apple so long to ditch Intel.
And just like with the aforementioned Air, the MacBook Pro comes with the new Magic Keyboard, as Apple finally ditched the shallow and unreliable Butterfly keyboards. This combination of endurance and performance, mixed with a display that's great for seeing your creations come to life makes for one of the best MacBook for high school students, provided their budget allows for it.
Pros:
Superb performance
Crazy long battery life
Bright and colorful display
Cons:
Dated design
Just two Thunderbolt ports
4. Apple MacBook Pro (13-inch, M2, 2022)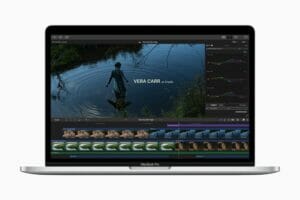 Specifications:
Display: 13.3-inch, 2560 x 1600Size: 12 x 8.4 x 0.6 inches CPU: M2GPU: M2 (integrated) RAM: 8GB/16GB Storage: 256GB, 512GB, 1TB, 2TB Weight: 3.1 pounds
Why it's the Best MacBook For High School Students
While the design is unchanged, the M2 inside the MacBook Pro 2022 gives another performance and battery life boost to Apple's already outstanding laptop.
The MacBook Pro is more powerful than nearly every PC on the market, including some workstations. And despite cramming so much power into such a slim and sleek chassis, the Pro has over 18 hours of battery life which means it'll keep its charge through multiple classes, breaks and all-nighters.
Thanks to the image processing unit, the webcam (sadly, still 720p) is better than its 720p rivals and since it runs on Apple's ARM-based architecture, iPad and iPhone apps are available on Mac.
While the 14-inch and 16-inch MacBook Pro models may tempt some users with high-end needs, the MBP 13-inch with M2 remains a strong option at a far more affordable price point for those that need just a bit more juice than the MacBook Air.
Pros:
Stellar overall and gaming performance
Excellent battery life
Lightning-fast SSD
Great webcam
Comfortable keyboard
Cons:
Stagnant design
Not enough ports