If your iPhone 15 won't turn on, here's what you need to do to fix it.
What to Know
If your iPhone 15 won't turn on, make sure you're switching it on the right way first.
You can fix an iPhone 15 that won't turn on by force restarting it or checking for charging or hardware issues.
Some iPhone 15 and iPhone 15 Pro model owners say that they are unable to turn on the device. Especially users who are new to iPhone 15 seem to report this issue. Users have been saying that all they see is a black screen, and pressing the Side does not power on the device.
There could be several reasons for this. Do not panic yet. Your iPhone 15 may seem dead, but we can help you get it running again.
Let's take a look at the steps you can take when your iPhone 15 won't turn on.
Note: information in this article apply to iPhone 15, iPhone 15 Plus, iPhone 15 Pro and iPhone 15 Pro Max.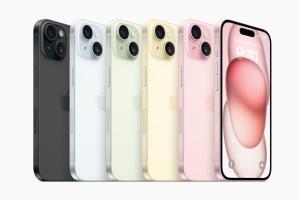 How to turn on iPhone 15
First, make sure you're turning on your iPhone 15 the right way before trying any of the troubleshooting steps mentioned below. You will need to press and hold the Side button to turn on the device. Let's do this first. Press and hold the Side button until you see the Apple logo. If nothing happens, then try the troubleshooting tips below.
What to do if your iPhone 15 won't turn on
1. Ensure that your iPhone has charge
It is possible your iPhone 15 won't turn on because your phone is dead due to a lack of power in the battery. Try these:
Connect your iPhone 15 to a power source and charge for about 20-25 minutes. Your iPhone may turn on itself. Pay attention to the empty battery icon without the charging cable on your black screen. This indicates your device is charging.
If your device does not turn on itself, press and hold the Side button to turn it on.
If you think that your device is not accepting charge, try a different charging cable and adapter. If this does not work, try a different power source, like a different USB-C port or power outlet, etc. Also, check the charging port. Ensure that the port is debris free. Firmly remove and attach the charging cable to your iPhone 14 a few times.
2. Force restart your iPhone 15
This will probably get your device working again if some software malfunction has caused this issue. Here is how you can do this:
First, press and quickly let go the Volume Up button.
Then press and quickly let go the Volume Down button.
Now, press and hold the Side button. Keep holding the Side button until your device turns on and you see the Apple logo. You may need to keep holding for longer than you think you should have to. If nothing happens, see the next step.
3. Troubleshoot a hardware problem
It is possible that your iPhone 15 may have been running at some capacity with a black screen. For example, it may still ring or vibrate when you receive calls or notifications. You may feel haptics. If your issue is like this, your screen may be the culprit. If you need to replace or repair your screen, this article explains how much it would cost.
Likewise, your iPhone 15 may have a hardware problem preventing it from powering on. Some of the most likely issues include:
Water damage. You might have gotten your phone wet and it has caused some components to fail.
Drop damage. If you've dropped the phone, it might have damaged the screen (most likely) or internal components (less likely), preventing it from working.
Component failure. As reliable as iPhones are, it's always possible that one can fail due to a manufacturing defect. It's rare, but it can happen.
If any of the situations apply to you, contact Apple. After contacting Apple, you can determine if you need to take it in for repair. Since one year has not elapsed since the day you bought your iPhone 15, your device is still under warranty. You may also have an AppleCare warranty which offers more coverage for hardware issues. Apple may diagnose and fix the issue for free.