We have the shiny new iPhone 14 Pro Max in our hands, a phone that costs a cool $1099. So, it's always a good idea to put a case on it for the added peace of mind on such an expensive purchase. In this article, we'll be taking a quick look at Mkeke clear case for iPhone 14 Pro and iPhone 14 Pro Max to see how good of a case it actually is.
The Mkeke clear case for iPhone 14 Pro and iPhone 14 Pro Max allows you to see your phone while keeping it protected. However, if you're not too fussed about the color of your phone, there is a variation of different colors and styles to suit your needs.
Around the camera, there are 3.53mm raised lips To protect the 48MP main, ultrawide, and telephoto lenses from surface scratches that can easily happen when you place your phone down. The bumpers around the corners help to absorb shock, whether you drop your phone or it comes into contact with other objects in your bag or pockets.
The material is extremely grippy, ensuring your phone doesn't slide out of your hands when using it. And, with all this protection, the Mkeke Clear Case for iPhone 14 Pro and iPhone 14 Pro Max is compatible with wireless charging, so you'll only need to remove the case to clean it once in a while.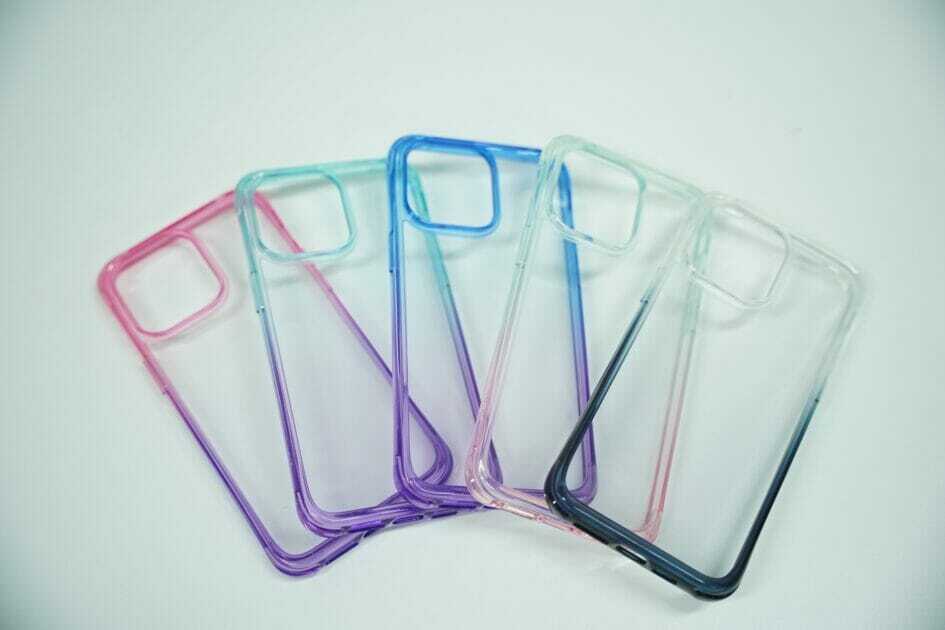 Key Features
Clear transparency.
anti-yellowing properties.
Raised bezels for sufficient protection.
Super-slim profile.
Scratch-resistant coating.
Affordable price.
SPECIFICATIONS
Brand: Mkeke
Material: Polycarbonate, Plastic, Acrylic
Wireless Charging Support: Yes
Thickness: 1.9mm.
Weight: 1.09 ounces
Included Screen Protector: No
PROS
Clear transparency
Precise cutouts around the ports and buttons
Shockproof airbags on the corners
Top-notch quality
Easy to install
Comfortable non-slip grip.
Affordable
CONS
No magnet installed in the case.
BUY THIS PRODUCT
Amazon's Choice: Mkeke iPhone 14 Pro cases | Amazon's Choice: Mkeke iPhone 14 Pro Max cases
Design, Look & Feel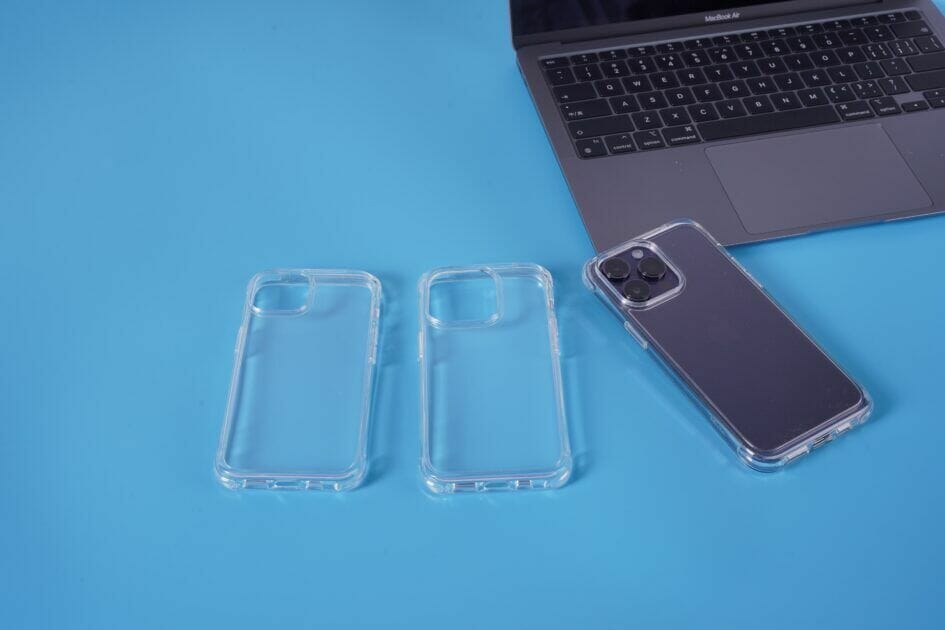 This case's raised bezels keep the camera and display from coming in contact with any surfaces you place your iPhone on. Also, the material used is made to withstand the test of time. Mkeke has been in the case game for a while now, so the brand definitely knows what its doing.
Say you want to showcase your iPhone 14 Pro or iPhone 14 Pro Max in its full glory without covering it up with a matte, opaque case. Mkeke has you covered with this crystal clear case. If you're someone who doesn't like cases because they hide your iPhone, this case will fit you like a glove.
Now for how it feels. The case being soft material also means it's grippy. You won't have to worry about your iPhone sliding out of your hand or off a smooth surface when it's in this case. Made from specially polycarbonate and flexible materials, the exterior feels great in the hand and doesn't turn yellow over time.
It's also comfortable to hold. Since it doesn't add much to the phone's dimensions, it feels almost like you're just holding the iPhone without a case.
Fit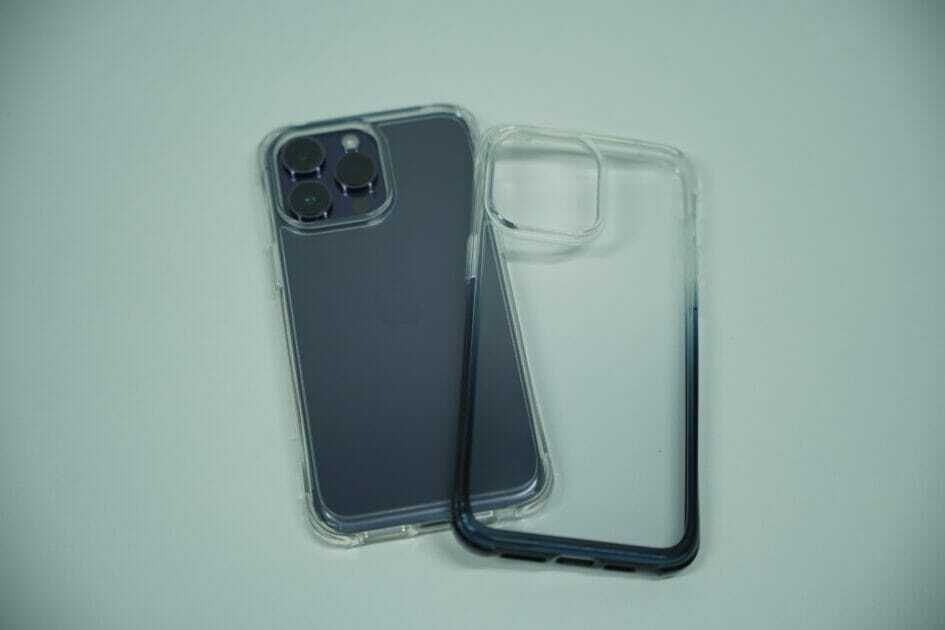 This iPhone 14 Pro series case is made to fit like a glove around the phone without adding bulk. The dimensions are perfect, and all ports and sensor remain accessible and functional.
It's easy to put on and take off, too. I've had annoying experiences with iPhone cases in the past where once installed, they fit fine, but actually getting them onto the phone is a nightmare. And I can say the same for taking them off. Mkeke managed to provide both a good fit and a good installation/removal experience. Putting this Clear Cover case on is plenty easy, and once it's on, it fits snugly without any annoying air gaps.
Durability

One of the more important reasons for using a case is protection. Everyone drops their phone at some point, and a case is meant to at least somewhat reduce the chance of something breaking. Will Mkeke iPhone 14 Pro Series case do that? Well, I don't particularly want to go outside and drop my $1099 phone onto cement to find out, so I'm going to have to be a little more theoretical here.
Mkeke case for iPhone 14 Pro series is a very grippy case, which should limit the times you drop your phone.
The sides of the case do come up over the screen about 3.9mm on the edges for protection. If you drop your phone and it hits the floor, you'll probably be fine. The raised bezels around the case should provide enough cushioning to give the phone a fighting chance to simply bounce instead of crack. There's also a raised lips around the camera module, which should shield the camera glass from direct hits on a flat surface. Protection is key when owning such an expensive smartphone, so you better take that into account.
The case itself is scratch-resistant and specially coated to prevent yellowing over time with higher-quality materials.
Affordable Cases for iPhone 14 Pro and iPhone14 Pro Max

If you want to maintain your iPhone's original look, you simply can't go wrong with Mkeke iPhone 14 Pro Series case. You can count on this case to fit perfectly, protect well, and offer comfortable grip. The case is scratch-resistant and easy to install. And all of this at a very affordable price point, what's not to like?