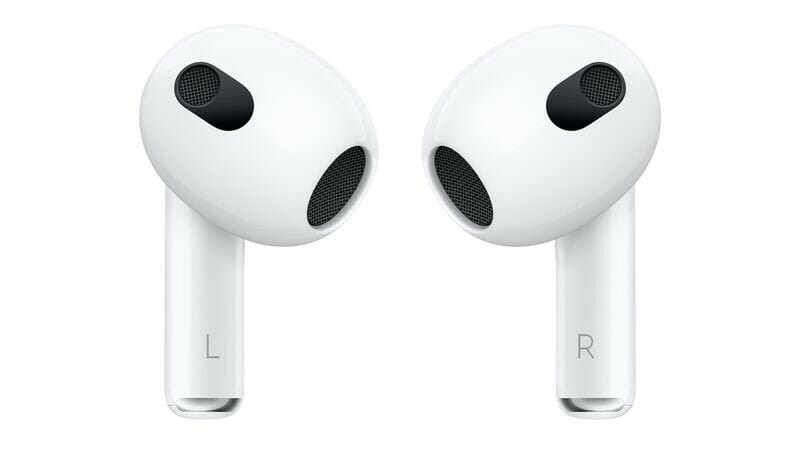 You can enjoy your AirPods 3 even more if you know how to fully use and customize them. Here are the best AirPods 3 tips and tricks to get the most out of Apple's wireless earbuds.
The AirPods 3 feature spatial audio and industry-leading sound, longer battery life, and an all-new design. If you're one of the many to have picked up a new pair of AirPods, but don't know if you're making the most of their functionality, here are the best AirPods 3 tips and tricks to help you get the most from your earbuds.
These helpful AirPods 3 tips and tricks can help you control and customize your earbuds to manage playback, preserve the battery, find them if they're lost, and a lot more. Some of these you may already know, while a few added in iOS 15 might be new. So take a look till the end.
The best AirPods 3 tips and tricks
Here's a list of the best 31 AirPods 3 tips and tricks that will help you get the most from Apple's new wireless earbuds. Have fun!
1. Use your iPhone as a remote mic
You can use your iPhone as a remote microphone while it's connected to your AirPods, if you need to—it can help pick up what's being said in conversations in noisy environments, or even let you hear what's happening in another room.
Open Settings on your iPhone.
Choose Control Center.
Select Customize Controls.
Tap the green button next to Hearing to add it to your control center list.
Now, when you want to use it, turn on Live Listen by opening control center.
2. Use Headphone Safety to Protect Your Hearing
With the "Headphone Safety" feature enabled, the iPhone can determine whether you've been listening to music too loud over a long period of time and — if so — it will lower your sound levels and send you a warning notification.
Go to Settings.
Go to Sounds & Haptics.
Go to Headphone Safety.
Turn on the toggle next to Headphone Notifications and Reduce Loud Sounds.
Finally, use the slider to adjust the decibel level, and you are all set.
3. Turn on spatial audio for a surround sound effect
With AirPods 3, you can take advantage of spatial audio. This technology creates a 360-degree surround sound effect when watching TV, listening to music or participating in FaceTime calls using AirPods. To activate spatial awareness or to check whether it's turned on, make sure the AirPods you're wearing are connected to your iPhone or iPad via Bluetooth. Then tap Settings > Bluetooth, and choose your AirPods. Press the "i" icon and select Spatial Audio.
4. Get Notified If You Leave Your AirPods 3 Behind
With Find My, you'll be able to get left behind alerts if you should head out without your AirPods, and you'll be able to rely on the Find My Network to help locate them.
To turn on left behind alerts:
On your iPhone, launch the Find My app
Tap on your AirPods under the devices tab
Tap Notify When Left Behind under Notifications
This is also where you can white-list locations. You may not want to get a notification every time you leave your house without your AirPods so you can white-list your home. Then you'll get notifications everywhere but at your own home. You can add multiple locations.
5. Understand What the Light Means
Wondering what the light on the AirPods 3 case is trying to tell you? The light is really useful to quickly see the charging and pairing status of your AirPods.
The AirPods 3 has a single light, but it can change color, and it flashes—it can be difficult the decode the meaning. Here's what the status light means:
White light (flashing): This means that your AirPods are in pairing mode. This happens when you press and hold the Pairing button at the back of the AirPods case.
Amber light (with AirPods in case): Ambre is the color for charging. It means that your AirPods are not fully charged, and that the case has now started charging them.
Amber light (without AirPods in case): This means that your AirPods case is not fully charged, and that there's less than one full charge remaining in the case. This is when you should charge your AirPods case.
Amber light (with power source): This means your AirPods are being charged.
Green light (with AirPods in case): A green light means your battery is fully charged. If your AirPods are inside the case and you're seeing a green light, it means that both the AirPods and the case are fully charged.
Green light (without AirPods in case): If you're seeing a green light in the case without the AirPods, it means that the case itself is fully charged.
Green light (with power source): This means that your AirPods case is fully charged and you can remove the charger.
Flashing amber light: A flashing light generally means something has gone wrong. In this case, a flashing amber light denotes a pairing error. If you see this, it means you'll have to reset your AirPods.
No light: Lastly, no status light means your AirPods are dead and have run out of battery.
6. Manually Switch Between Devices
If you're listening to another device with your AirPods but you want to listen to your ‌iPhone‌ instead, start playing music, a podcast, or other audio on your ‌iPhone‌, and your AirPods will switch to ‌iPhone‌ automatically. Your AirPods can also switch to ‌iPhone‌ when you make or answer a call on your ‌iPhone‌. Sometimes, the automatic switching feature isn't reliable. But bother not, this is why Apple has included the manual switching so that you can take control of any ill-functioning.
Swipe down from the top-right corner of the screen to bring down the Control Center on iPhones with Face ID or iPads. If you're using a device with a Home button, swipe up from the bottom of the screen.
Here, tap the "AirPlay" icon found in the top-right corner of the Now Playing widget.
You'll now see a list of all available devices. As long as your AirPods are out of the case and in your ears, you'll see them on the list. Select your AirPods to switch to them.
7. Change the name of your AirPods
With so many Bluetooth-enabled devices to connect to — from your car's audio to your noise-cancelling headphones to your living room speaker — it can be hard to keep track of what's what. That's why it can be helpful to rename devices like your AirPods 3 so you never get them mixed up again.
With your AirPods 3 connected to your iPhone or iPad, go to Settings > Bluetooth. Then tap on the "i" icon next to your AirPods' name. Next, tap on the Name field and enter your preferred name. The new name will sync to the rest of your iCloud-linked devices.
8. Customize the AirPods controls
Each of your AirPods (3rd generation) has a Force Sensor on the stem. From your AirPods' settings, you can also change the press-and-hold function for either earbud. Once again, with your AirPods connected to your iPhone or iPad, go to Settings > Bluetooth. Then tap on the "i" icon next to your AirPods' name. Tap on Left or Right to alter the functionality of each AirPod, or disable any interaction at all.
9. Use Force Sensor to Control Music With Ease
Each of your AirPods (3rd generation) has a Force Sensor on the stem. You can use the Force Sensor to do any of the following:
Play and pause audio: Press the Force Sensor once. To resume playback, press it again.
Play the next track: Press the Force Sensor twice.
Play the previous track: Press the Force Sensor three times.
10. Use AirPods 3 with Your Apple Watch
One aspect that makes Apple's AirPods so appealing is how easy it is to set them up. Connecting the earbuds to your iPhone only takes a few seconds and very minimal effort. As long as you're signed into iCloud, your AirPods 3 will automatically sync with any other supported Apple device — like an Apple Watch — that's linked to your Apple ID.
11. Use AirPods 3 with your Mac
Being part of the Apple ecosystem, AirPods also work seamlessly with Mac. As long as you're using the same Apple account on all your devices, once you have paired your AirPods 3 with your iPhone, they are automatically paired with your Mac as well. Though you can still pair your AirPods with your Mac like any other Bluetooth headphones.
12. Check AirPods battery status on an iPhone
To check the battery status of your AirPods and the charging case, simply open the charging case next to your iPhone (it works on the iPad and iPod Touch, as well), which should prompt your phone to display a popup with battery status.
13. Check AirPods battery status on an Apple Watch
If you own an Apple Watch, here's a cool trick: Place your open AirPods case next to your watch, then open Control Center and tap the battery option. In addition to displaying battery stats for your watch, you will also find stats for your AirPods and the case.
14. Check AirPods battery status on a Mac
Open the lid or take your AirPods out of the case.
Click the Bluetooth icon in the menu bar.
Hover the pointer over your AirPods in the menu.
15. Check the Model Number of Your AirPods 3
Considering how difficult it is to spot the difference between real Vs. Fake AirPods 3, it's important to check the model number of your AirPods.
Go to Settings > Bluetooth.
Find your AirPods in the list (for example, "Monica's AirPods").
Tap the More Info button next to your AirPods, and you'll see the model number.
16. Update Your AirPods 3
Apple's quietly been pushing new firmware to AirPods to help with performance. You can't update the firmware manually, but you can force an update to make sure you have the latest version.
To force an update: Place AirPods in the charging case, connect it to a power source, place it all next to the iPhone for an auto-update.
17. Hard reset your AirPods 3
Resetting the AirPods, also known as performing a hard reset, is how you return them to their factory settings. After you do this, you can set them up again.
Some of the situations in which you'll need to reset your AirPods include:
Go to Settings > Bluetooth, tap the i icon next to AirPods in My Devices then tap Forget This Device > Forget Device.
Next: Put Airpods in charging case, wait 30 seconds, then open and press/hold the button until status light flashes yellow, then white.
After a reset, you'll need to set your Airpods up again just as if they were brand-new.
18. Keep the audio playing
One of the smartest tricks the AirPods are capable of is stopping playback once you pluck either or both of them out of your ears, but you might not always want to interrupt playback while you're temporarily paying attention to the real world. If you open Settings in iOS, then tap Bluetooth and select the Info button (the "i" next to your AirPods), this feature can be disabled by toggling the Automatic Ear Detection toggle switch to Off.
19. Use your AirPods 3 with non-Apple devices
Notice that small, flush button on the back of the charging case? That's what you'll use to pair AirPods 3 to an Android device or anything else that doesn't work with Apple's proprietary chips.
To start pairing to anything new, put the AirPods in their case, then flip the lid up and press and hold the small button on the rear of the charging case until the little LED light starts pulsing white. They should then show up in any Bluetooth-pairing settings on an Android phone, or computer, or TV. Simply start the Bluetooth connection process from your other device to establish the wireless link.
Keep in mind that when you're paired with a non-Apple product, they lose some of their magic. Taking an AirPod out of your ear won't pause music, and playback controls won't work either.
20. Have Siri read your notification's via your AirPods
Want to stay tuned into what's going on with your phone's notification's while listening to music? With iOS 15, you can now turn on "Announce Notifications" and allow Siri to read you every notification. Yep, whether it's an iMessage or a Snapchat, Siri will know, and she'll be sure to let you know, too. Here's how to enable the feature so you never miss a notification again.
Open your Settings, and tap on Notifications.
Tap on "Announce Notifications."
Toggle on "Announce Notifications."
Choose which apps you want to have notifications announced for.
21. Find out who is calling without looking at your iPhone
You can set up your AirPods 3 to announce who is calling you without having to get your iPhone out of your pocket or handbag by enabling the "Announce Calls" feature on iPhone. To configure how this works, open Settings, then choose Phone, Announce Calls, and Headphones Only (or Headphones & Car). To answer or end a call: Press the Force Sensor on either of your AirPods.
22. Use the Find My network to locate a lost AirPod
Individual AirPods can be easy to lose, but thankfully you can track them down using Apple's Find My app. If your AirPods 3 are linked to your Apple ID and you've set up Find My on your iPhone, you'll be able to view your AirPods' last location on a map. If you happen to lose one AirPod, you can also prompt it to play a sound so that you can find it as long as it's near your other Apple devices and connected to Bluetooth. You can do this by launching the Find My app, navigating to the Devices tab, tapping on your AirPod, and pressing the Play Sound option.
You can easily share audio from one iPhone to two pairs of AirPods at the same time, which is very handy for watching movies or listening to tunes with a friend, for example. Open Control Center with a swipe down from the top right corner of the screen, tap the AirPlay icon, then choose Share Audio from the dialog that appears—once you've done that, you'll need to bring the second pair of earbuds close to your phone so they're detected.
24. Save Battery by Using Just One AirPod
If you only take one AirPod out of its case, your iPhone will route all the audio through it, which is helpful if you've got a long day of calls and audio streaming ahead of you and want to maximize the available battery life: when the first AirPod has died, you can switch to the second one and carry on. The other reason you might want to do this is to listen to music in one ear while keeping your other ear open to the sounds of the world around you.
25. Access Siri from your AirPods
On the thirdgen AirPods, you can launch Siri with a "hey Siri" voice command while they're in your ears without touching your phone at all. If you didn't enable the functionality when you set the earbuds up the first time, go to Settings on your iPhone, tap Siri & Search, then make sure Listen for "Hey Siri" is enabled. For example, you can ask about the weather, turn the volume down, or skip to the next track.
26. Charge with MagSafe
For the first time ever, Apple has released a charging case for the AirPods that is compatible with MagSafe. Now, you don't need to worry about misaligning the charging case on your Qi wireless charger as the case just snaps into place.
27. Change the active AirPod microphone
By default, the active microphone automatically switches between left and right AirPods, but you can change it so it is fixed to one side.
Open Bluetooth settings on your iPhone > Make sure your AirPods are connected > Click on the "i" symbol on the AirPods tab > Scroll down to Microphone > Select your preference.
28. Answer a call using your AirPods 3
It's possible to answer a call directly from your AirPods, though we recommend switching the Announce Calls feature on so you know who you're about to speak to.
To answer a call with your AirPods 3, just squeeze the Force Touch sensor when you hear the incoming call chime in your ear.
29. End a call using AirPods 3
To end a call with AirPods 3, simply squeeze the Force Touch sensor on the stem.
30. Turn the volume up on AirPods 3
There are no volume controls on the AirPods themselves, except the AirPods Max. To turn the volume up or down on the AirPods 3, you'll need to use the device your AirPods are connected to.
For example, if you are using your AirPods with your iPhone, simply adjust the volume as you would if you were talking on your iPhone with the volume rocker on the left of your device.
31. Improve Sound With Headphone Accommodation
The Headphone Accommodations feature enhances the audio from your AirPods by boosting softer sounds and certain frequencies.
Go to Settings > Accessibility > Audio/Visual > Headphone Accommodations and turn on the switch. Tap Play Sample to start playing music, which will allow you to tune the audio for a balanced tone across a range of frequencies, a vocal range for middle frequencies, or brightness for higher frequencies. You can also boost softer sounds slightly, moderately, or strongly.
Your favorite AirPods 3 tips and tricks?
So these were some of the best AirPods 3 tips and tricks you would love to try today. With all these AirPods 3 tips, tricks, and hacks in mind, you should be a master of your new earbuds in no time. Life will be much easier for you and most of the things you need to do are a voice command or two taps away. My favorite AirPods 3 tips and tricks include the ability to read notifications without unlocking my iPhone, Spatial Audio, and find them if they're lost. Which AirPods 3 tips and tricks did you find the most interesting? Do you have any other life-changing AirPods 3 tips and tricks up your sleeve that we might have missed? Share it with us through the comments.