It's incredibly frustrating when your iPhone 14 won't connect with a Bluetooth accessory. Whether it's a set of wireless headphones, a smart speaker, or your car stereo, we expect our Bluetooth accessories to work seamlessly, but that isn't always what happens.
In this article, we'll walk you through all the best ways to fix Bluetooth problems on your iPhone 14. Most of the time, these problems are the result of a software issue, which means you can usually fix them yourself for free.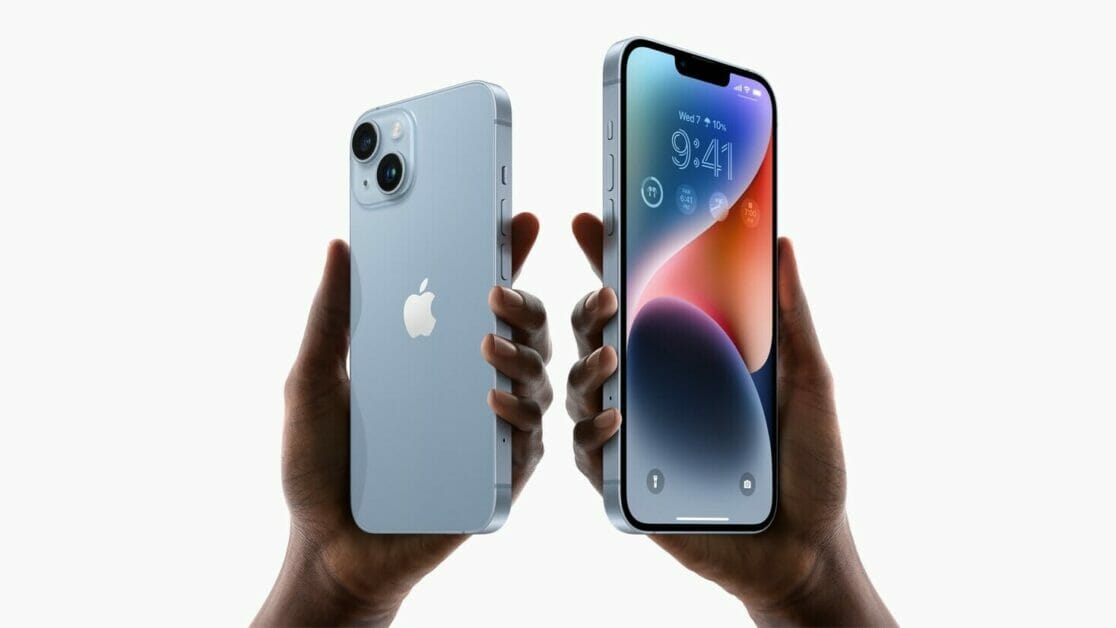 Note: information in this article apply to iPhone 14, iPhone 14 Plus, iPhone 14 Pro and iPhone 14 Pro Max.
Bluetooth gives you the freedom to use accessories like Apple Watch and AirPods wirelessly, but every technology has its shortcomings, and Bluetooth may have a few issues that can be easily solved. If your iPhone 14 won't connect or pair with Bluetooth and you are looking for the solutions to fix it, we have some tips for you. We will identify the reasons for iPhone 14 Bluetooth problems and look at the solutions that can help you fix the issue.
Some of the most common iPhone 14 Bluetooth issues include:
iPhone 14 Bluetooth not working
iPhone 14 Bluetooth not pairing
iPhone 14 not finding Bluetooth devices
iPhone 14 Bluetooth keeps disconnecting
Before you head to the Apple Store or start thinking about replacements, follow some of these more common troubleshooting steps to fix iPhone 14 Bluetooth issues. Many times, the most basic steps can resolve iPhone 14 Bluetooth connectivity issues.
Why Is My iPhone 14 Bluetooth not working?
Several things can prevent your iPhone 14 Bluetooth from working properly , including:
Bluetooth may be turned off.
Your Bluetooth device may be too far away.
The device you're trying to connect to may not be sufficiently charged.
Software or firmware could be out of date on either the iPhone or the Bluetooth device.
How to Fix iPhone 14 Bluetooth not working issue
If you're having Bluetooth issues on your iPhone 14, the steps below should help you fix the problem. Try each one, in order until you find a solution that gets your iPhone 14 Bluetooth working again.
Before you start troubleshooting the iPhone 14, it is essential to rule out that the device is not the cause of the problem. To check if the device is working or not, connect it to another device like a different iPhone or a laptop and check if it works properly on the other devices. If the Bluetooth device is working fine on other iPhonss or iPads, then the problem lies in your phone, and further troubleshooting should be done on the iPhone 14. But suppose the device does not connect on a different phone or another device either. In that case, the problem lies with the device, and you may have to follow the device manual for troubleshooting the device, or you must take it to the manufacturer to get it checked or replaced. This is a critical step to ensure that further troubleshooting of the phone becomes a sensible step when looking for solutions for iPhone Bluetooth problems.
1. Make sure your iPhone's Bluetooth is turned on
It's easy enough to accidently (or even on purpose) turn the Bluetooth on your iPhone 14 off. Check to be sure it's turned on, and then try connecting to your Bluetooth device again. You can do this by going to Settings > Bluetooth.
2. Toggle Bluetooth Off and On
The easiest way to fix most Bluetooth problems on your iPhone 14 is to toggle Bluetooth off and on again. This is particularly effective if your device is struggling to pair with a Bluetooth accessory. It'll also help if you accidentally disabled Bluetooth on your device.
Follow these steps to toggle Bluetooth:
Swipe down from the top-right corner of the screen to open Control Center.
Find the Bluetooth icon in the top-left section of the Control Center, then tap this icon to toggle Bluetooth off. The icon turns white when Bluetooth is turned off.
Wait 30 seconds, then tap the Bluetooth icon to enable it again. The icon turns blue when Bluetooth is turned on.
3. Make sure your devices are compatible
It seems like a given, but believe it or not, not all devices are compatible. Make sure the Bluetooth device you're using with your iPhone is actually compatible with the iPhone 14. You can usually check the packaging or the manufacturer's website for details about compatibility.
4. Make sure your devices are close enough
A Bluetooth signal tends to have a very short range, so make sure your devices are close enough to connect. Usually 2-3 feet is good during the connection process, though you can often separate them by a greater distance once the connection is complete.
5. Make sure your iPhone and your Bluetooth device are both sufficiently charged
You wouldn't think the charge level on an iPhone or on the Bluetooth device you're connecting it to would matter, but it can. The more charged the devices are, the better the connection, so if you're having trouble and either of the devices is less than 50 percent charged, try charging them both completely and starting again.
6. Make sure your Bluetooth device isn't paired with something else
While it's true some Bluetooth items will connect with more than one device, that's not true for all of them. If you already have your Bluetooth device connected to something else, disconnect it and then re-try connecting it to the iPhone 14.
7. Restart Your iPhone And The Device
One of the most tried and tested troubleshooting techniques is to restart your device. If your iPhone 14 isn't working with a Bluetooth accessory, restart the Apple device and the accessory before trying them again.
To restart your iPhone, press and hold the Side button with either Volume button, then slide to power off.
Once your iPhone powers off, wait 30 seconds before pressing the Side button again to restart it.
Follow the user instructions to restart your Bluetooth accessory.
8. Pair With Your Bluetooth Accessory Again
When it's working, your iPhone usually pairs with Bluetooth accessories automatically, as soon as it detects them. But it can help to manually pair your devices together using the Settings app.
Here's exactly what you need to do:
Make sure your Bluetooth accessory is fully charged and powered on (consider replacing the batteries if it uses any).
Follow the instructions for your Bluetooth accessory to put it in pairing mode. You can often do this by holding down a Bluetooth button on the device.
On your iPhone 14, go to Settings > Bluetooth.
Wait for your Bluetooth accessory to appear in the list of devices, then tap its name to pair with it. If your accessory doesn't show up, try moving it right next to your iPhone 14 while it's in pairing mode.
The Settings app should say Connected next to your Bluetooth accessory when pairing is complete.
9. Forget Your Bluetooth Accessory and Pair Again
Even if your iPhone 14 won't connect with a Bluetooth accessory right now, it still remembers information about the accessory from the last time it connected. Sometimes, you need to delete this data to fix your Bluetooth problems.
You can do that by telling your iPhone to Forget a device. Here's how:
On your iPhone, go to Settings > Bluetooth.
Tap the i icon next to a Bluetooth accessory to reveal more data about it.
Scroll to the bottom and tap Forget This Device, then confirm you want to Forget Device.
After telling your iPhone to forget a Bluetooth accessory, follow the instructions above to pair them again, like you did the first time you used it.
10. Remove All Paired Devices
If you find Bluetooth not working on your iPhone 14 after trying the above steps, give your phone a fresh start by removing all the devices that had been paired before. The chances are that you are looking at a list that has devices that you paired with just once, and you would never be pairing again. It is best to remove such devices from your list and allow your phone to try and pair with the device all over again. To remove all paired devices:
Start the Settings app of your iPhone.
Tap on Bluetooth
When your Bluetooth is On, you will see a list of devices that you had paired it with
There is a settings icon next to the name of each device. Tap on the icon and press forget this device.
Do this for all the devices till you have no devices on your list
Once all the devices are removed, your iPhone will begin scanning again for devices to connect to. It should show the device you want to connect to. Try pairing now and check if it works.
11. Install the Latest iOS Update
It's possible the Bluetooth isn't working on your iPhone 14 due to a bug in iOS. When this is the case, all you need to do is install the latest iOS update to fix it—provided Apple has released a patch for that bug already.
On your iPhone 14, go to Settings > General > Software Update to check for new updates.
12. Make sure your Bluetooth device is full updated
Outdated drivers, firmware, and software can create all manner of problems, including connection issues. Use the manufacturer's directions for updating your specific Bluetooth device, they are usually available on the manufacturer's website, and generally, you can go into the settings for the device to find the option to update it.
13. Reset your network settings
Up to now, none of the solutions we've suggested should have resulted in any data loss from your iPhone. But if you're iPhone 14 Bluetooth still isn't working, it's time to start erasing some settings.
When you Reset Network Settings on your iPhone, it will forget all the Bluetooth devices you've connected to, all the Wi-Fi networks you've saved, and all the VPNs you may have set up.
As far as data loss goes, this is pretty minor. But you should make sure you've got your Wi-Fi password to hand so you can get online again as soon as possible.
Go to Settings > General > Transfer or reset iPhone > Reset and tap Reset Network Settings.
14. Reset Your Bluetooth Accessory to Factory Settings
Sometimes it isn't your iPhone 14 that's playing up, it's your Bluetooth accessory. This could be the case for everything from a car stereo to a set of Apple AirPods.
If your iPhone 14 still can't connect to your Bluetooth accessory—or if it doesn't work properly when you do connect it—follow the user instructions to reset the device back to its factory settings.
For most Bluetooth devices, all you need to do is disconnect it from Bluetooth and restart it. But for other devices, you may need to press a certain combination of buttons or go into the settings. Check with the manufacturer to find out exactly what you need to do.
15. Factory reset your iPhone
If you find iPhone 14 Bluetooth not working after trying the above solutions you can factory reset your phone. It's unlikely this will make much of a difference for your Bluetooth connections, but there's a slim possibility that something's gotten corrupted in your Bluetooth capabilities, so if nothing else has fixed your iPhone 14 Bluetooth not working issue, a complete reset of your phone is worth a try.
However, be aware that if you reset your iPhone you'll lose everything on it, so you might want to create a complete backup before you start. You can do this by going to Settings > General > transfer or Reset iPhone and choose Erase All Content and Settings. Your iPhone passcode is required to start the process.
16. Repair options for your iPhone
Unfortunately, if you followed all the advice above but Bluetooth still isn't working on your iPhone 14, it means you're looking at a hardware problem. This is most likely to be an issue with the antenna in your device, which can also affect Wi-Fi connectivity. Setup an appointment for a visit to the Apple Store, setup an appointment at the Genius Bar, or place a call to Apple Care.
If your iPhone 14 is still covered by the limited manufacturer's warranty or consumer law, Apple should repair or replace your device for free.
Unfortunately, if your iPhone 14 isn't covered by the warranty or consumer law, you'll need to pay for this yourself. But still, at least you'll be able to connect to your Bluetooth accessories after you do so.
iPhone 14 Bluetooth not working? Problem Fixed!
There are a countless number of different ways that Bluetooth can stop working for your iPhone 14 and an equally countless number of potential causes for those problems. Because of this, it's difficult for us to tell you exactly which step you need to follow to fix your iPhone 14 Bluetooth problem.
However, we did try to list our solutions in order from the simplest and most likely, to the most drastic and least likely solution.
Let us know in the comments how you fixed Bluetooth not working on iPhone 14 issue! Or, if you still haven't managed to fix it yet, which methods did you try, and did Apple have anything interesting to say about it?