Several users have reported that their iPhone 14 camera app is not working properly. If your iPhone 14 camera won't take pictures or videos, you may wonder if the camera is broken or if your iPhone needs to be replaced. The good news is your device is probably fine, and we'll walk you through some easy ways to get it running properly. In this article, I'll explain why your iPhone 14 Camera is not working and show you how to fix the problem.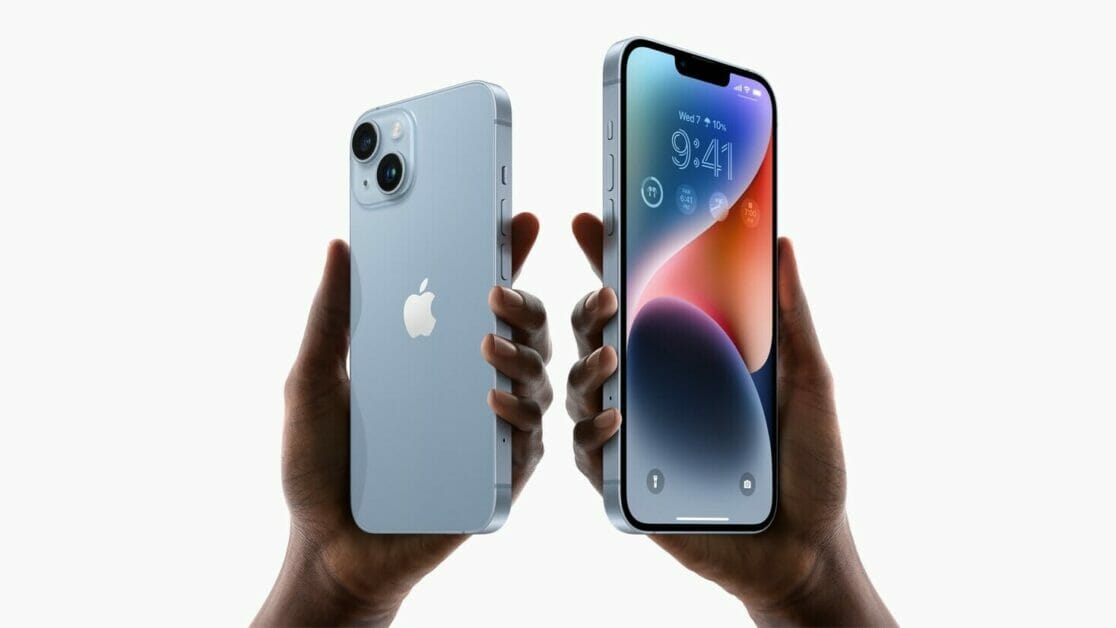 Note: information in this article apply to iPhone 14, iPhone 14 Plus, iPhone 14 Pro, and iPhone 14 Pro Max.
The iPhone 14 retains the old 12 MP camera system with the help of the new Photonic Engine (Deep Fusion upgrade) and a slightly wider F1.5 aperture. But what do you do if your iPhone 14 Camera is not working? Read on to find solutions!
Common iPhone 14 camera issues
iPhone 14 camera issues can vary, but three of the most common ones are:
The camera is freezing or lagging.
A black screen appears instead of the traditional camera viewfinder.
The flash won't work.
If you're experiencing any of these problems, this guide will help you fix them.
Why is my iPhone 14 Camera not working?
The iPhone 14 Camera not working issue could be both hardware and software related. First, let's figure out if your camera is experiencing a hardware or software issue.
If it's a hardware issue, you'll likely have a problem with only the front or rear camera (not both), and the issue will be consistent across apps.
If it's a software issue, your camera may work totally fine for one app and have problems with another.
If your iPhone 14 Camera is not working due to a random software glitch, you can get rid of it by trying out some trusted software hacks. However, if it's due to a hardware failure, you will need to contact Apple or an authorized iPhone service center. Keeping both these aspects in mind, we've suggested the solutions that are likely to troubleshoot the Camera not working problem on your iPhone 14.
How to fix iPhone 14 camera not working issue
1. Force Quit the Camera App and Relaunch It
On some occasions, you can fix the iPhone 14 camera not working problem by force quitting the camera app and relaunching it. So, make sure to try this nifty trick before trying the other solutions below.
Swipe up from the bottom of your iPhone to bring up the app switcher, swipe up on the camera app to close it, and relaunch it seconds later. This will usually get it to work properly.
2. Restart Your iPhone
Another simple trick that you should try to resolve the camera not working on iPhone 14 issue is to restart your iPhone. At times, a quick reboot is all you need to fix some miscellaneous software issues.
Go to Settings.
Tap on General.
Select Shut Down.
3. Force Restart Your iPhone
Whenever my iPhone faces a common issue, I usually go for a force restart to iron out random software bugs, and it doesn't disappoint me on most occasions. Given the high reliability, I'm going to count on it to resolve the iPhone 14 camera not working issue as well.
Press and quickly release the volume up button.
Press and quickly release the volume down button.
Hold down the side button until the screen goes black and the Apple logo shows up.
4. Switch between the front and rear cameras
Sometimes, iPhone 14 Camera Issues can be resolved by just switching between the rear and front-facing selfie camera. The problems could be caused by the app not loading properly, and each time you switch cameras, it forces the app to load again, so this could help. Another suggestion is to see if a third-party camera or video app works, such as Instagram or Snapchat.
While taking a picture or video, or using FaceTime, you can easily switch between the rear-facing and front-facing cameras. Once you have opened the "Camera" or "FaceTime" app, you'll be able to see the switch. Tap on the Switcher Icon to switch from Front to Rear Camera > Wait for 10 seconds and tap on the Switcher Icon again to return back to the Front Camera.
5. Clean your iPhone 14 and camera lens
if your iPhone 14 Camera is not focusing properly, make sure that your phone's camera lens is clean. Dust and dirt can affect the outcome of your captured images and videos. Even fingerprint smudges can also be a factor as to why your camera is not focusing on your iPhone 14.
You can prevent this by cleaning your camera or external lens using a microfiber cleaning cloth, which helps clean hard surfaces like smartphones and oleophobic (oil repellent) iPhone screens. Do not attempt to use your fingers to clean them as it will leave fingerprint smudges, which we are trying to clean in the first place.
6. Take off The Phone Case.
Phone cases are one of the simple reasons why captioned images or videos can be blurred. We use them to add protection to our devices from any physical damages, but it can also cause some iPhone 14 Camera Issues. The additional layer of plastic or glass can result in poor images or videos.
In some cases, if you are using phone cases that partially cover the flash or the camera lenses, this can also cause Camera problems. If your iPhone 14 camera is showing a black screen instead of the viewfinder, make sure your case is not blocking the lens.
7. Check your app permissions
When your iPhone 14 camera doesn't work while you're using a third-party app, you may think the app is to blame. But it's possible that you never granted it permission to use your camera. Here's how to check:
Go to Settings.
Select Privacy & Security.
Tap on Camera.
On the list of apps, make sure the app you want to use is switched on.
If the iPhone 14 camera still doesn't work after that, try switching back to your default camera app.
8. Update Your iPhone
If none of the tricks mentioned above help resolve the camera not working on your iPhone 14, there is a high chance that the issue is due to a specific software bug. As Apple keeps refining iOS with frequent updates and bug fixes, you count on the software update to resolve the camera issues on your iPhone 14.
Go to Settings.
Tap on General.
Choose Software Update.
If there's an update available, tap Download and Install.
9. Reset All Settings
If you are still trying to resolve the camera app not working on iPhone 14 issue, I would recommend you to reset all settings. The good news is that doing this doesn't erase any of your data. Instead, it just resets the way you have some apps set up.
Go to Settings.
Tap General.
Select Transfer or Reset iPhone.
Tap on Reset.
Choose Reset All Settings.
10. Perform a factory reset
A factory reset may fix the problem you're having with your iPhone 14 camera, but this should be your last resort. Before you reset your device, make sure you back up your iPhone, since everything except for the original software and apps will be erased.
Go to Settings.
Tap General.
Select Transfer or Reset iPhone.
Tap on Erase all content & settings.
11. Contact Apple Support
If you have tried everything in this guide and still have iPhone 14 camera problems, then it may be an issue with your hardware. The only way to fix that is to contact Apple Support or take it to an authorized repair center to see what they can do.
Pro Tips to Fix Camera App Not Working on iPhone 14 Issue
That's it! Hopefully, your iPhone 14 Camera is working again. Now let us know the hack that has fixed your iPhone 14 Camera problem. And if you know any other reliable solution for resolving this issue, tip us about that as well.