Apple's new iPhone 15 series is now available for purchase worldwide. While not as exciting and feature-packed as the Pro models, the iPhone 15 is still a fantastic option for anyone coming from iPhone 11 or older. If you're planning to buy it, you might wonder what accessories you get with the new phone. In this article, we'll walk you through the unboxing experience and find out what's included in the box and what's not.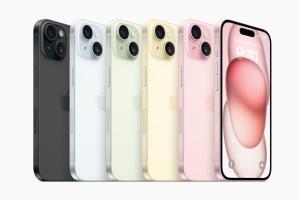 QUICK ANSWER
What is in the iPhone 15 box?
Included in the box is the iPhone 15, a USB‑C Charge Cable, SIM ejector tool (non-U.S. models only) and some documentation.
, iPhone 15 and iPhone 15 Plus do not include a power adapter or EarPods.
The retail box of the iPhone 15 and iPhone 15 Plus is pretty identical to the iPhone 14 and iPhone 13. The box is pretty small and has a minimal design. It has a picture of the iPhone 15 on the front, the text that says "iPhone" on the left and right sides, and the Apple logo on the top and bottom. Once you remove the seal and open the box, you're greeted by the iPhone 15 lying face down. Lifting up the phone reveals the inside contents, which are not much. There's a USB-C cable, documentation, a SIM ejector (if you have a non-US model), and an Apple sticker.
What's inside the box:
iPhone 15 or 15 Plus
USB-C cable
Documentation
1x Apple sticker
SIM ejector (only with non-US models)
You'll not find a power adapter inside the box; Apple has stopped including that since 2020. Your existing charger with the USB-C connector will work just fine. If you don't have one, you can purchase one from Apple. You also won't find headphones or a USB-C to headphone jack connector.
Apple iPhone 15
The iPhone 15 offers a 6.1-inch OLED display, A16 Bionic chipset, and improved cameras.
The new iPhone 15 isn't a huge leap from the iPhone 14. Perhaps the biggest design change to the whole iPhone 15 lineup is that the Dynamic Island, once unique to the iPhone 14 Pros, is now present on every model of iPhone 15.
Most exciting of all is the new main 48MP camera, which should mean much better image quality both in taking stills and video. There is also the new A16 Bionic chipset that debuted with the iPhone 14 Pro and Pro Max but was missing from the less expensive models last year. Other improvements include faster RAM, as well as adopting the Pro model's design.
Make sure to immediately put a case on your shiny new iPhone 15 to protect it from scratches, dust, fingerprints, and other potential harm.