Apple is the major flag-bearer with its MacBook Pro and MacBook Air models. In this sense, Apple is known for offering chargers with practically an unmatched performance, including 18W, 29W, 30W, 61W, 87W, and 100W, which can be used for MacBooks, iPhones, iPads, and other devices.
However, what if your MacBook charger gets damaged or if you lose it? Since most Apple chargers, we dare to say all of them, cannot be repaired, you'll need to buy a new one, which not only can be expensive but there's a strong chance that it'll also get damaged after some time.
There are a couple of chargers for MacBooks on the market and most of them are quite good. However, there is a MacBook charger that is preferred out there that always snag the most recommendations.
We took a look at some of those chargers for Mac and came up with the best.
The best MacBook charger right now is KOVOL Sprint 120W 4-Port PD Fast Laptop Charger.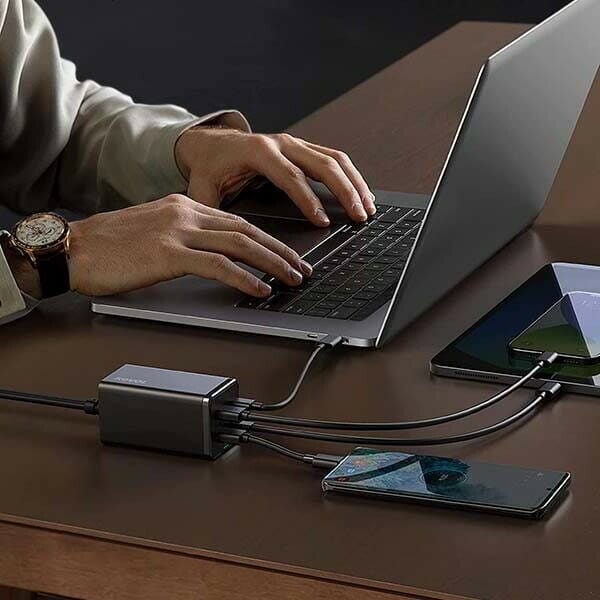 Of all the MacBook chargers we've tried, the Kovol Sprint 4-port 120W PD desktop charger is the best.
Unlike many other chargers for Mac, the Kovol Sprint 120W charger can charge your MacBook, and charge a few other devices simultaneously at a fast charging speed. This multi-port Power Delivery charger is even more powerful than the 96W Apple charger, which is great as it makes it the ideal match for the 100Wh battery of the MacBook Pro 16″. Moreover, provided the MacBook Pro can take up its 100Wh, then you can make sure that it will charge it faster.
This Kovol Sprint 120W charger comes with 4 USB ports with its PD 3.0, QC 3.0 & PPS Charging technology, allowing four devices to charge simultaneously. Therefore, it is compatible with all MacBook Pro models, as well as the iPad Pro, iPhones, the Nintendo Switch, and many other USB-powered devices from other brands such as Samsung.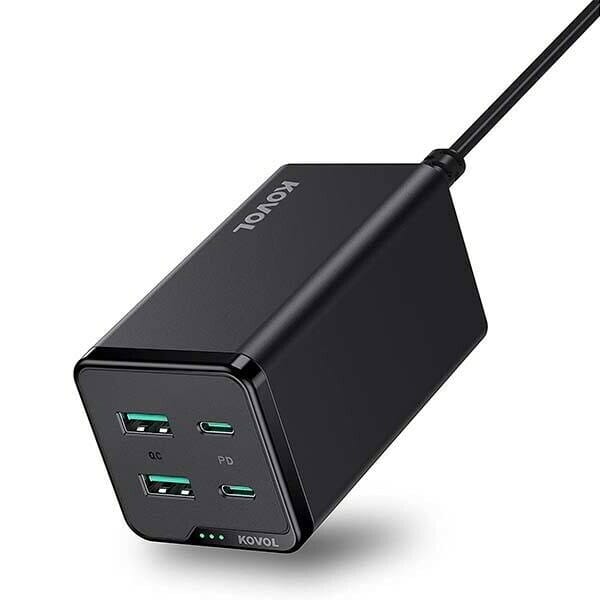 Besides the obvious power, what's great about this charger is that thanks to its maximum combined output of 120W, speed won't be sacrificed while charging other devices at the same time. For example, It's mighty 120W Output can rapidly charge a MacBook Pro 16″ in 1.7 hours via a USB-C port (100W Max.), or simultaneously provides up to 60W of power to 2 MacBooks via both USB-C PD ports.
With measures of 1.81×1.81×3.35 inches, the Kovol Sprint 120W charger does not occupy much space. The charger features a power cord that gives you more freedom on where you want to place the charger. Even better, the 4.9ft cable is detachable to easily stay in your bag with the charger without causing any mess.
The Kovol Sprint 120W charger features a Q-Pulse technology which ensures safe charging features such as surge, over-current, over-voltage, short-circuit, over-charge, high-temperature protection and is backed by a 24-month warranty in case of any defect.
Should I buy KOVOL Sprint 120W 4-Port PD Fast Laptop Charger?
Absolutely! At the risk of repeating myself, I wish to emphasize that the Kovol Sprint 120W charger is the best MacBook charger on the market. You're able to charge a MacBook and fast charge another three smaller devices at the same time. In addition, the charger features intelligent Power Distribution, allowing it to allocate optimal required power to each device for maximized charging efficiency. It also come with an in-built protection against problems such as overheating, overcurrent, overvoltage, and short-circuit. Furthermore, it's been designed using GaN tech to maximize charging efficiency. Finally, it supports PD 3.0, QC 3.0 & PPS Charging, therefore, we recommend this to our readers.
Where do i buy KOVOL Sprint 120W 4-Port PD Fast Laptop Charger?
You can buy the Kovol Sprint 120W Charger for $99.99 from Amazon.
Highlights of KOVOL Sprint 120W 4-Port PD Fast Laptop Charger
Mighty 120W maximum output
Charges 4 devices simultaneously
Smart power distribution function
Pioneering GaN II Tech
Supports PD 3.0, QC 3.0 & PPS Charging
Low-Heat & Safe Charging
Small and compact
24-month warranty
Final Thoughts
While Apple chargers perform great, their durability is questionable, as well as their expensiveness. Thus, we recommend the KOVOL Sprint 120W 4-Port PD Fast Laptop Charger. If you have any other questions about this charger or our Kovol Sprint 120W charger review, leave a comment down below.