While Mac computers are renowned for their security and privacy features, they're not immune to geographical restrictions. In this article, I'll explain how to bypass geographical restrictions on your Mac using a VPN.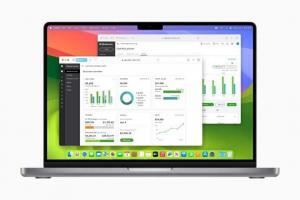 Sometimes when you're trying to watch a video on a streaming service on your Mac, you might find the video isn't available in your country. This is called geo-blocking and while it can be annoying, there's a way around it.
Streaming services aren't the only places you might run into geo-blocked content. A few examples of geo-blocking include online stores restricting sales to certain regions and state governments blocking access to services like WhatsApp or Twitter.
Here's how geo-blocking works and what you can do to get around these restrictions on your Mac.
What Is Geo-Blocking?
Geo-blocking, or geo-filtering, is the act of denying or limiting access to digital content or services based on their geographic location. Geo-blocking works on all types of content, including streaming services, news sites, online gaming, and retail websites, but it's most notable for videos. Video-sharing platforms and streaming services, like YouTube, Netflix, and Hulu, use geo-restrictions. They make some of their content inaccessible to users from specific regions.
Companies can apply geo-filters to countries, cities, and even buildings and offices. The degree of filtration can vary from service to service. Some services allow you to browse their content but limit you from viewing it. Others will hide the content entirely in your region.
"Geoblocking restricts access to online content based on the user's geographical location," said Peter Yu, the director of Texas A&M University's Center for Law and Property.
You can think of geo-blocking in terms of school districts. If you live within a certain community you can send your child to particular schools and have access to that district's resources. When online content is geo-blocked, you can access content specific to your "school district" but not others.
How does geo-blocking work?
Your public IP (internet protocol) address makes geo-blocking possible. An IP address is a unique numerical label attached to a device on the internet or a local network. This address makes it possible to send and receive information online — without it, you wouldn't be able to read this article right now.
Your IP address also holds information about your geographic location because it's determined by your router, not the device you're using to browse the internet. For example, if you connect your Mac to your home network, you will have a different IP address than if you connect your Mac to your work network.
You get an IP address as soon as you register with an Internet Service Provider (ISP). With varying levels of accuracy, this IP address can identify your device's geographic location. Online services use your IP address to decide whether to allow you to view their content. So, if you try to request content from an IP that falls outside the allowed list, they deny your request.
Geo-blocking can also occur even when you pay for a premium service. For example, if you live in the US and pay for a Netflix subscription, you can stream the content as long as you're within US borders. If you go on vacation or travel to other countries for work, you won't be able to access the same Netflix library.
How can I bypass geo-blocking on Mac?
The best and most reliable method of bypassing geoblocking on a Mac is by using a VPN. A VPN, like ExpressVPN, NordVPN, or CyberGhost can allow you to disguise your IP address to make it look like it's coming from another country or region.
A VPN redirects your traffic through a server in another region, and your IP address will reflect that server's location. That also means that you have to choose a VPN server from another region in order to get around geo-blocking.
So if you want to watch a US Netflix show while traveling abroad, you can use a VPN to connect to a US server.
While you might be tempted to use a free VPN to bypass geo-blocks on your Mac, we strongly advise against that. Many free VPNs compromise on performance and usability and limit the amount of data you can use. Some free VPNs are even loaded with malware and sell your personal data.
When using a VPN, make sure it uses advanced security features and encryption protocols to keep your identity anonymous. Make sure it offers critical privacy features such as DNS leak protection, obfuscated servers and a kill switch.
Is Geo-Blocking Legal?
Regardless of how frustrating it can be, geo-blocking is still legal. It's a way for media companies to enforce legal contracts based on geo-restrictions. It's common among media companies because the broadcasting rights of TV shows and movies usually vary from country to country. While this is all good, other reasons tempt companies to restrict services based on location.
Is bypassing geo-blocking illegal?
Using a VPN to access geo-blocked content on your Mac isn't illegal — unless using a VPN is illegal in your country — but it could lead to other ramifications.
Using a VPN to access geo-blocked content on your Mac could violate a streaming service's user agreement, and your account could be terminated or suspended. You could also face legal trouble if you use a VPN to access content that is illegal in your region.
We advise reading through terms of service before using a VPN with any app, game or other service. Also, remember that illegal activity is still illegal, even if you're masking your location with a VPN.
Geo-Blocking Is Frustrating, But Easy to Overcome
A VPN is an effective tool to remove geo-blocking on your Mac, offering the added benefits of enhanced privacy and security. So, if you're looking to access some of your favorite TV shows and movies on your Mac, but can't get past geographical restrictions, try using a VPN to open up a whole new world of entertainment.