It seems like iPhone owners are completely obsessed with the health of their batteries. I've lost count of the number of times I've been asked how to keep an iPhone's battery at 100% health, and there are countless YouTube videos and articles telling owners how to do this.
I have bad news for you if you're one of those people.
There's only one thing that you can do to keep your iPhone 15 battery health at 100%.
Stop using your iPhone.
Yup, the only way you're going to keep your iPhone 15 battery at 100% is to stop using it and charging it.
I've also got another bit of advice to those who are obsessing over the health of their iPhone 15 battery.
Stop worrying about it.
According to Apple, the battery is rated to hold 80% of its capacity after 500 complete charge cycles. A charge cycle is defined by a complete drain of the battery to zero, followed by a complete charge to 100%.
If you want to know how to find out how many recharge cycles your iPhone 15 has been through, follow the steps below:
Open the Settings app.
Tap General -> About.
Scroll down to the "Battery" section and check the number next to Cycle Count.
So, is there anything else you can do to prolong your iPhone 15 battery health other than using it less?
No.
This is normal battery wear.
That said, there are a few steps you can take to take the stress off your battery to reduce additional wear.
Prevent Your iPhone 15 Battery from Charging Beyond 80%
All iPhone 15 and iPhone 15 Pro models feature a new battery health setting that when enabled prevents the devices from charging beyond 80% at all times.
Apple has detailed how the iPhone 15's new 80 percent charging limit setting works in an update to a support document.
Here's Apple's explanation of what you can expect if you enable the setting:
When you choose 80% Limit, your iPhone will charge up to about 80 percent and then stop charging. If the battery charge level gets down to 75 percent, charging will resume until your battery charge level reaches about 80 percent again.

With 80% Limit enabled, your iPhone will occasionally charge to 100 percent to maintain accurate battery state-of-charge estimates.
The new 80 percent limit on iPhone 15 series could help prevent the unexpected battery capacity dropoff. Here's how to set it up:
Open the Settings app.
Tap Battery -> Battery Health & Charging.
Tap Charging Optimization.
Tap the 80% Limit option to enable it.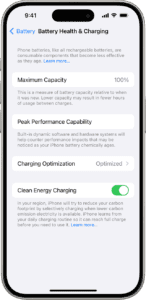 Keep your iPhone 15 at room temperature as much as possible
The life span of your iPhone battery can be affected by extreme temperatures. A higher temperature increases the speed of chemical reactions inside the battery, which forces the battery to work harder and faster, thus also causing it to degrade faster.
The most important thing is to keep your phone away from direct sunlight when possible, especially when it's warm. Your phone might be fine in the grass on an overcast day, but the warmer the temperature, the less your phone can withstand the sun. At the beach, your phone can overheat in just a few minutes in the sun. Same if you put it in a sunny spot in your car.
Instead, get your phone out of the direct light, whether it's in your pocket, inside a backpack or under a towel/blanket or dashboard. Anyplace that will keep it away from sunlight will work.
It's fairly easy to protect your phone from the sun, but high temperatures alone can also cause your phone to overheat. After only an hour, the inside of a car can reach 143 degrees when it's 100 degrees outside, for example, so a phone left in your cup holder could quickly overheat and get damaged. So, to preserve your iPhone 15 battery health, Don't **keep your phone in a hot environment for an extended period of time, even if it's not in direct sunlight. **That includes your car, a sauna, the kitchen, the middle of the desert or anywhere near a fire.
Your phone's optimal internal temperature should be somewhere between 32º and 95º F (0º and 35º C). To prevent overheating, Apple recommends keeping the device in a place where the temperature is between -4º and 113º F (-20º and 45º C).
Apple does have a few settings to prevent overheating and damage, like disabling your phone or preventing further charging when your phone is too hot, but you don't want to rely on these features to maintain your iPhone 15 battery health. It's better to take preventative actions than wait for your iPhone to overheat.
You may need to take your iPhone out of its case
If your iPhone gets hot any time you charge it, you may need to take off your case before doing so. Certain cases, especially the bulkier and more protective ones, can trap heat and make the iPhone overheat, affecting the battery's life span.
Apart from removing the case, don't use graphics- or processor-intensive apps when your phone is charging. . That includes massive mobile video games like PUBG Mobile or streaming apps like Netflix and Hulu. Using these apps while charging could also cause your phone to overheat.
Use a good-quality charger
You can charge your iPhone with a USB-C cable and power adapter compliant with the USB-C standard, including USB Power Delivery — such as the cable that comes with your iPhone. These cables and power adapters are widely available from Apple and other manufacturers. Having said that, not all charging cables, bricks, and pads are made equally, especially when it comes to the long-term health of your battery.
Be wary of using cheap, no-brand chargers, or chargers that have been sitting around for years, as they may not necessarily stick to the same safety standards as the rest. We're not saying all of these chargers are dodgy, but to maintain your iPhone 15 battery health it's always worth going with a high quality charger from Apple or a reputable third-party manufacturer, even if it's a little bit more expensive.
Talking about cables, there is a reason some charging cables sell for $2.99 and others boast a price tag of $25. The variance in cost is due to Apple's licensing program known as "Made for iPhone" or "MFI". Within MFI certified cables lie proprietary components that monitor the amperage flow into your device. These components protect against surges in power and over charging. Non-genuine or "gas station" chargers that are not MFI certified will prompt error messages such as "accessory not supported" as well as damage your battery or even worse – your motherboard.
Take these steps to protect iPhone 15 in long-term storage
Maybe you have several iPhones and want to stash your iPhone 15 for a bit. If you want to preserve the battery's health, you should do the following before putting it away:
Keep the charge at around 50%. You don't want your battery to be full or empty before you turn it off, or else it could stop holding a charge (if full) or lose capacity and have a shorter life span (if empty).
Turn your iPhone off. This prevents your phone from using up more battery.
Store your phone in a cool and moisture-free environment. Ideally, the temperature should be less than 90 degrees Fahrenheit (32 degrees Celsius).
If you're putting your iPhone away for longer than six months, turn it on and charge it to 50% every half a year.
If you store your iPhone 15 for a long time, it may be in a low-battery state, which just means you may need to charge it for 20 minutes before it turns on.