Does your iOS device give you problems now and then? Thus the screen gets stuck, or you cannot get out of the recovery mode?
There can be numerous errors, even with the newest iPhone models. The best and safe way to solve all these errors is to use an iOS system repair tool to make your repair work easier.
iPhone may be the world's best smartest phone in the market, but even the perfect things have some flaws. You may be aware of some iOS systems problems such as wheniPhone is stuck on the apple logo, screen freezing, recovery mode, white screen, system error, boot loop, application stuck, updates stuck, and other kinds of issues.
iOS users experience a lot of issues. Fixing these iOS system issues without any software to help you can prove tricky and complex, especially when the iPhone buttons are unresponsive. Most iPhone users prefer going to the factory resetting option, but there is a risk of losing data.
If you're having a problem with your iOS device – if it's stuck on the Apple logo or a white screen, for example, or you can't get it out of recovery mode – these reliable iOS system repair tools are exactly what you need.
How to Choose the Best iOS System Repair Tool
When you choose an iOS system repair tool, it's good to consider some factors, such as powerful features, success rate, security, compatibility, price, repair speed, ease of use, technical support, free download, upgrades, etc. Based on these few criteria, we have selected the 7 best iOS system repair software in 2022.
The 7 best iOS System Repair Software
So here are the seven best iOS system repair software tools we recommend for you. Each has its own pros and cons, and we list them here. You can compare them and choose the best one that fully meets your needs.
1. Dr. Fone System Repair


Dr. Fone System Repair software is undoubtedly the best iOS recovery and repair tool out there.Dr. Fone is a software developed by Wondershare. Not only a reliable system repair tool. Dr.Fone also recovers, transfers, and manages iOS and Android phone data, which aims to give you more control over your device and protect your files.
Loaded with tons of powerful features, Dr. Fone System Repair can help you resolve major problems such as updating problems, iPhone stuck on the Apple Logo, black screen, recovery mode, white screen of death, and more. The company also designed a similar version of System Repair for Android.
For a good reason, Dr.Fone is one of the most powerful iOS system repair software. The tool comes with two optional modes, the standard and the advanced, convenient for you to solve different problems according to specific situations.
With Standard Mode, we can fix most iOS system issues without losing data on the iOS device.
The software also has advanced mode capabilities, making it easy to fix more serious iOS issues.
Pros
Fix various iOS system issues, including white Apple logo, boot loop, etc
Repair the iOS system from the full range of devices, including iPhone, iPad, and iPod touch.
Standard and Advanced repair options
Fix most iOS issues without data loss
Supports various iOS versions, including iOS 15
Easy to use
A free version is available
2. Tenorshare ReiBoot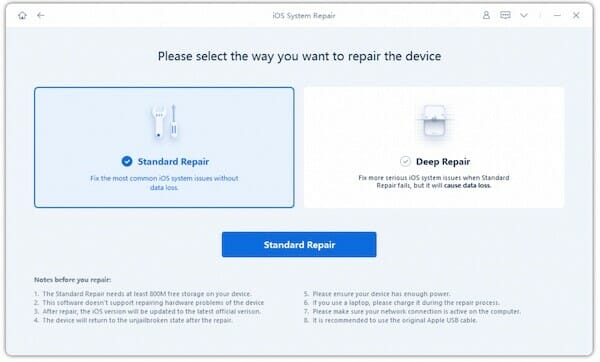 ReiBoot is another iOS repair tool that Tenorshare introduced. It is crucial in repairing iOS issues such as iPhone freezing, and the screen won't turn on, iPad stuck on DFU mode, and other commON problems. It is worth noting that this tool allows one to recover the iOS system to normal status without losing any data. Additionally, the trial version of this program allows you to either enter or exit the recovery mode in one click for free.
Pros
Fix 150 iPhone system, not working issues and iPhone/iTunes 4013/4005 errors.
Easy To Use
Cons
The Tenorshare ReiBoot Free version does not work. You are required to register and provide the ReiBoot registration code.
Even though ReiBoot does not work, it is hard to ask for a refund. The ReiBoot 30-day money-back guarantee is misleading.
Most ReiBoot iPhone troubleshooting solutions are not working.
3. PhoneRescue for iOS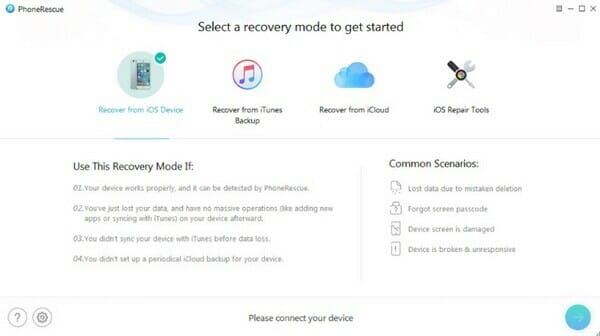 This app is arguably one of the best iPhone repair software tools out there. It will help you to repair a wide range of problems such as devices stuck in the recovery mode, Apple logo, upgrade failure, iPhone activation problem, and so on.
Pros
One-click to get into recovery mode free
Fix a wide range of iPhone issues on iPhone/iPad.
Cons
Time-consuming to repair iOS system issue;
High chance of data loss during the repair process
The tool is not stable and will crash at times.
4. Joyoshare UltFix

Joyoshare UltFix is a safe and trustworthy iOS system recovery tool that can fix over 30 different common or serious iOS problems such as iPhone gets bricked, iPhone stuck on a black screen with a spinning wheel, GIFs not working on iPhone, etc. More importantly, Joyoshare UltFix can repair the problem without causing any data loss.
Pros
Repair more than 30 kinds of iOS/iPadOS/tvOS issues.
Reset your iOS device to factory settings without a password.
Cons
The trial version has limited features.
The support team is slow to resolve the queries of the customers.
5. FoneDog Toolkit- iOS Recovery System

FoneDog Toolkit, an iOS Recovery Program, is one of the favorite tools for iOS users. It claims to fix more than 50 problems like an iPhone that is stuck on Apple's logo, freezing, crashing, iTunes error codes, red/white/black/blue screen, among others.
Pros
Repair different system issues on iPhone/iPad
Cons
Doesn't have the ability to fix issues on Apple TVs
6. iMyFone – Fixppo

iMyFone Fixppo lets you fix a wide range of iOS problems, including an iOS device stuck on a white screen, Apple logo, spinning circle, recovery mode, boot loop, etc.
Pros
Simplified UI makes it easy to use
Available for both Mac and Windows
Has step-by-step guide for all users
Cons
The advanced mode of this program might wipe out the settings and delete content on iPhone
7. FoneLab – iOS System Recovery

One more tool that has been made to this list is FoneLab. The tool lets you fix an iOS device from headphone mode, DFU mode, Apple logo, recovery mode, and Apple logo to a normal state without data loss.
Pros
Recover iPhone from headphone mode, DFU mode, Apple logo, recovery mode, among others.
It is safe and easy to use.
Cons
Slower to work
Sometimes it won't fix iOS stuck effectively.
The trial version doesn't include the file recovery feature.
Conclusion and recommendation
Commonly, you may encounter such problems as iPhone stuck on the Apple logo, recovery mode, etc. But take it easy because these iOS system repair tools are here to help you. Above all the listed tools, it is recommended that users use Dr. Fone System Repair since it's undoubtedly the easiest iOS system repair solution with the highest success rate.
Dr.fone – System Repair stands out among other software like ReiBoot and iMyFone due to its high demand and comprehensive features, affordable price, and high customer rating.
As compared to other iOS system repair tools, Dr. fone – System Repair is much more powerful, and all the features are as simple as they could be. Where other iOS system repair tools are complex and advanced and are compatible with few iPhone models, Dr. fone – System Repair has a simple UI and UX interface and is compatible with a wide range of iPhone models.