Have you bought a new iOS device but you're worried you won't be able to transfer Whatsapp data to your new device? Well, we have some great news for you.
It is indeed possible to transfer WhatsApp from Android to iPhone. Whether you're transferring that data to an old or a new iPhone, the process is actually quite simple.
You might already know that WhatsApp transfer is very common since people are constantly switching from Android to iPhone and from iPhone to Android.
While WhatsApp remains by far the most popular and feature-rich messaging app across platforms, it lacks an essential feature – data transfer across platforms. Thankfully, you can take advantage of the third-party tool, like Wondershare MobileTrans to move your WhatsApp from Android to iPhone within few simple clicks.
What is MobileTrans – WhatsApp Transfer? Why should you download it?
MobileTrans – WhatsApp Transfer is a professional tool that is designed to transfer WhatsApp between devices. The software lets you transfer WhatsApp messages from Android to iPhone with minimal effort. Whether it's transferring WhatsApp from iOS to Android or backing up the chat history to PC or restoring the app from backup, it performs the assigned tasks efficiently.
What separates MobileTrans-WhatsApp Transfer from the pack, is much simpler interface than other data transfer tools out there, which makes it easier for anyone to navigate and use.
MobileTrans-WhatsApp Transfer doesn't stop there, though. It also lets you backup WhatsApp files to computer and you can restore them to your iPhone/iPad or Android devices with a single click.
The backup feature works like magic. You just need to connect your iPhone to your computer, launch MobileTrans and perform a single Click.
iPhone users can back up their messages and then selectively restore – or copy to their computer – file attachments, specific messages and chat histories.
Talking of chat histories, the software allows you to transfer your chat history directly from one phone to another. For instance, you can transfer your chat history from Android to Android, iPhone to iPhone, iPhone to Android, or Android to iPhone.
Besides WhatsApp, MobileTrans also works with a host of messaging apps like WeChat, Viber, Line, Kik, and more. So, you shouldn't worry about losing your memorable chats when moving from one iPhone to the other or switching from one platform to the other.
With that in mind, let's look at how to transfer WhatsApp from Android to iPhone.
How to transfer your WhatsApp from Android to iPhone using Wondershare MobileTrans
To migrate WhatsApp from android to iphone
you'll need the following;
MobileTrans – WhatsApp Transfer
A PC or Mac
Your iPhone and connecting cable
Your Android Phone and connecting cable
Now, here are step-by-step instructions for how to transfer whatsapp data from Android to iPhone using MobileTrans – WhatsApp Transfer:
Step 1: Download, install and launch MobileTrans on your Mac or Windows computer.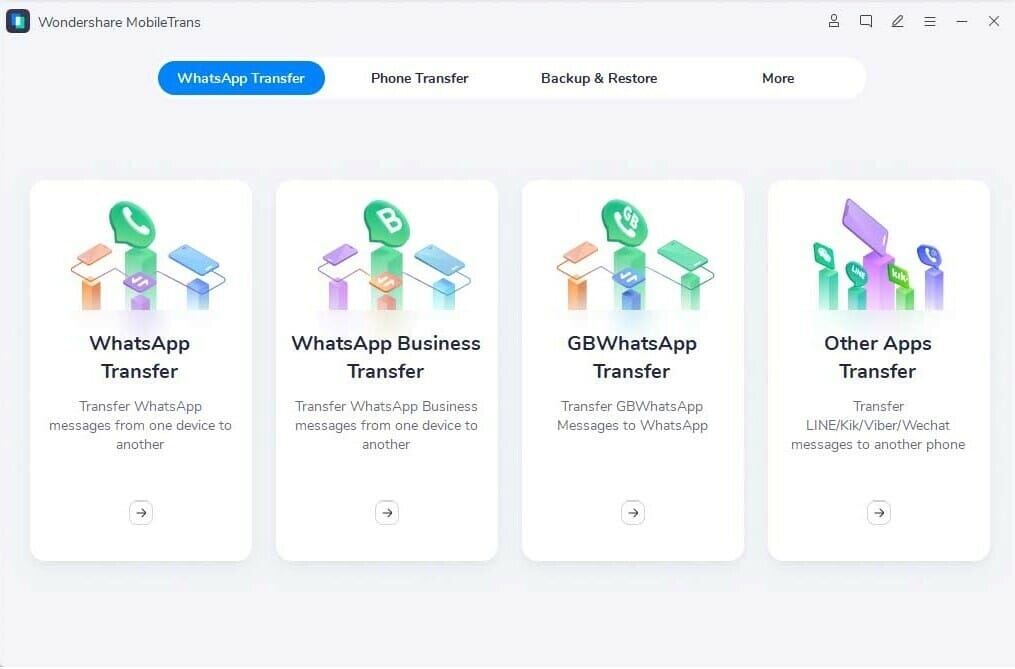 Now, click on the "WhatsApp Transfer" module.
From the left panel.
Step 2: Next, build the connection between both of your devices and computer with a USB cable. When the two devices get detected, you will see them on the screen.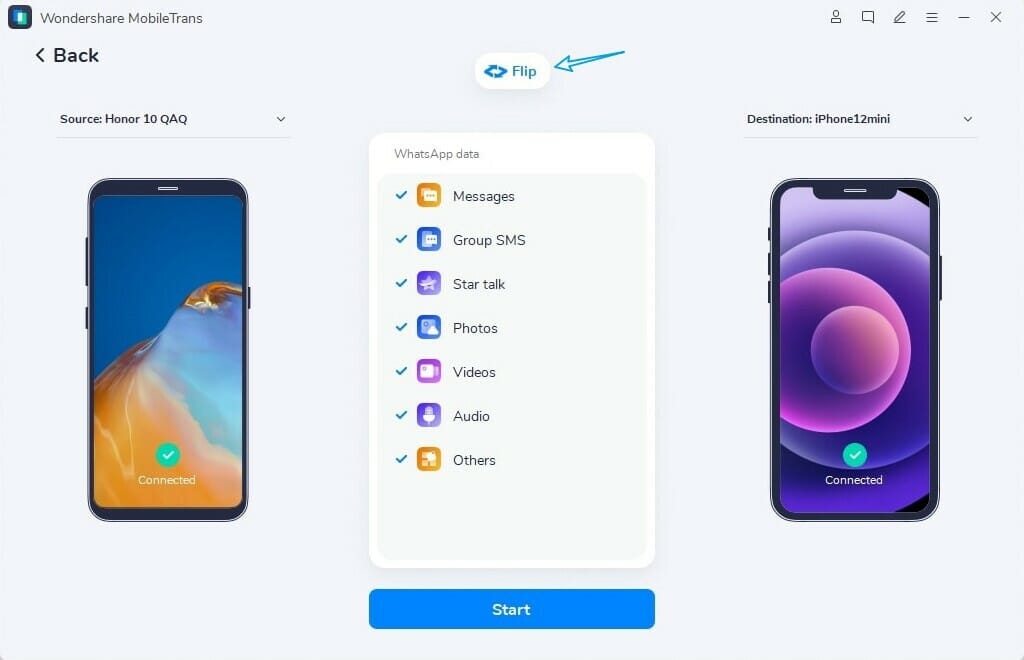 Step 3: After making sure that the iPhone is the destination device, select the type of files you wish to transfer, then click on "Start" to initiate the transfer process. Now you need to agree to the warning messages to confirm your decision as the existing WhatsApp data on the target device will be deleted.
Step 4: After that, MobileTrans will begin the WhatsApp transfer process.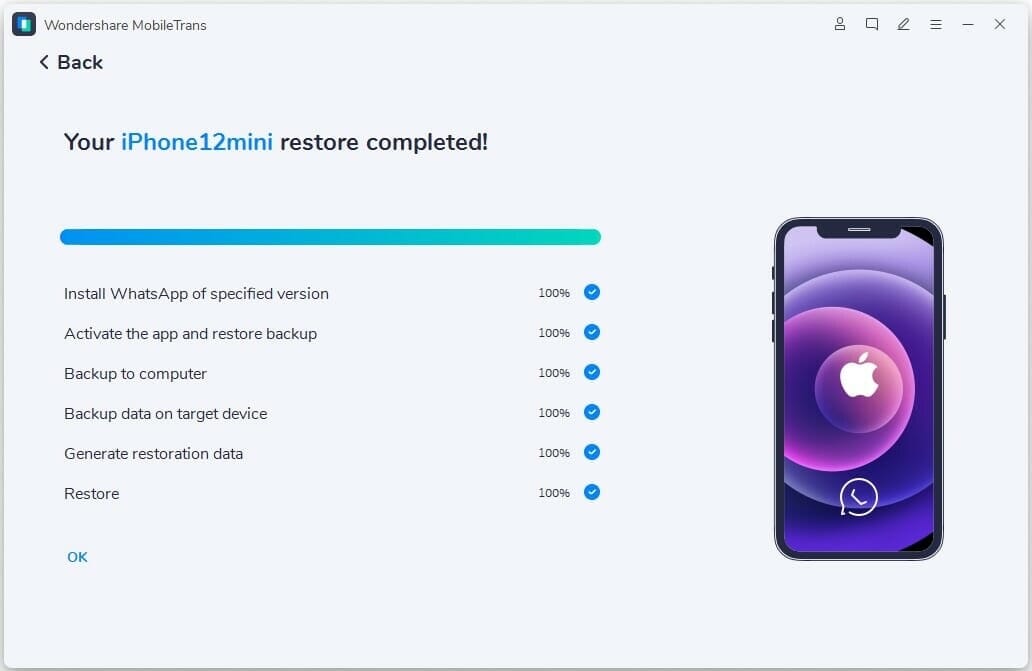 Step 5: Finally, grab your iPhone, open WhatsApp, and restore the backup.
Now, my WhatsApp was transferred successfully within no time and pricing was also cheap and affordable.
MobileTrans – WhatsApp Transfer Features
Great and comprehensive UI design
Multiple price plans for different needs
Compatible with most devices from different manufacturers
Great transferring speeds
100% secure
Complete backup of your device
Accessible
Wondershare MobileTrans is trusted by millions of users around the world and has also received tons of praise from reputable media outlets such as PC World, Forbes, CNET,and many more.
It's security has never been called into question. Wondershare takes security very seriously by ensuring that your privacy is thoroughly protected, through both data encryption and advanced fraud protection. This is arguably the main outstanding factor that separates MobileTrans from its competitors.
Wondershare is one of the most reputable names when it comes to data-recovery or data transfer between smartphones. They have a range of products and most of their products are easy to use; above all, they do the job very well.
Our two sense
It's not often that I find an honor of reviewing an app which is not only feature-rich and revolutionary in its feature set, but takes users experience
to an entirely new level.
MobileTrans – WhatsApp Transfer is a blazingly fast software which does its job very efficiently. Whether you want to backup your WhatsApp history, or transfer Whatsapp messages from iPhone to Android, nothing can beat MobileTrans.
MobileTrans – WhatsApp Transfer is a brilliant software . Actually, it might just be the best in its class in that respect.